Canyon County Mosquito Abatement District focuses abatement efforts towards the Culex species of mosquitoes, which are the primary disease vectors for West Nile virus.
Surveillance Practices
Inspection/Surveillance: Surveillance is accomplished by deployment of traps in areas of known production site locations, historic infections, and field technician observed problems. Factors that govern monitoring may include service requests, air temperature, water temperature, humidity, rainfall, permanent water, irrigation water and retention catch basin water levels.
Arbovirus Testing: Mosquitoes are pooled by species into testing groups and tested for West Nile virus using the R.A.M.P. (Rapid Analytical Measuring Platform) system.
Arbovirus Surveillance and Testing
This is by far the most important function of mosquito monitoring and surveillance. Early detection is important in preventing the spread of an arbovirus disease such as West Nile virus.
West Nile virus surveillance is done in all CCMAD sectors each week starting in May or sooner if weather permits. Approximately 40 CDC Co2 baited light traps are deployed around Canyon County per night. Most of the traps are at permanent sites while the others are service or technician requests for an area. All sites are marked by GPS coordinates.
Traps are deployed before sundown and retrieved the next morning.
Arbovirus test results are known within 24 to 48 hours, so mosquito management decisions can be implemented in a timely manner. Positive virus pools are communicated with Idaho Department of Health and Welfare and with County officials so appropriate press release information can be made. Positive pools are further tested by the Idaho Bureau of Laboratories for Western Equine Encephalitis and St. Louis Encephalitis.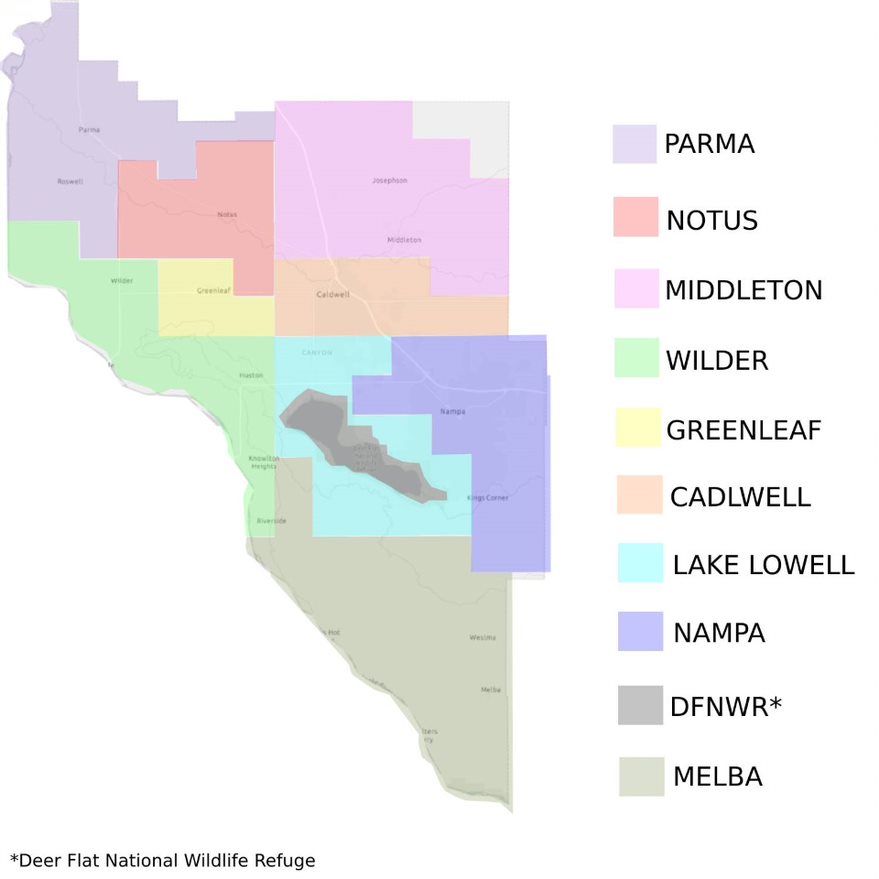 Facts About Ultra Low Volume Adult Mosquito Treatments
Adult mosquitoes are controlled by Ultra-Low-Volume (ULV) treatments, which distribute a very small amount of liquid into the air as a fine mist droplet. Typically, less than an ounce of product is dispersed over one acre.
Droplets float in the air currents, killing mosquitoes that come in contact with them, and are applied in the early evening (from sunset to approximately 1am) or early morning, when the mosquitoes are most active.
Products used by CCMAD to treat for adult mosquitoes are listed under the tab called: Mosquito Control Product Labels
ULV treatments are applied with truck-mounted equipment that is capable of wide-area distribution. Application equipment is calibrated using computerized measurement tools at least once a year.
Proposed daily treatment routes can be found HERE and on our Facebook page daily.
In the event of a potential disease outbreak, CCMAD contracts with an outside company to provide specialized aerial treatments.
If you wish to opt-out of ULV treatments, please call, email, or fill out a Service Request with detailed information. If you have bees, please call our office for bee protection advice.
To Protect Honey Bees
Call us at 208-461-8633 to notify us of active honey bee colonies, so we can create a no-spray zone.
Canyon County Pollinator Protection Management Plan
Mosquito Production Site Inspection

Larvicide Application
Granular Larvicide Application

Fogging for Adult Mosquitoes